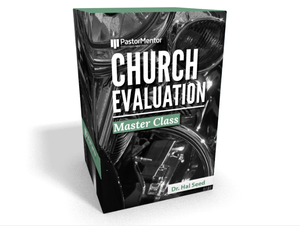 Church Evaluation Master Class
Regular price $47.00 Sale
INSPIRE YOUR LEADERS TO MAKE YOUR CHURCH BETTER
Deciding for yourself that evaluating your church with simple questions is one thing. Getting your leaders onboard with the idea is another challenge. 
Everyone else is evaluating your church every weekend. Do you want to see what they're thinking so you can fix it?
The Church Evaluation Master Class will:
Give you a simple process with straightforward questions to evaluate your church. No complicated and expensive demographics that are hard to understand and use.

Show the video master class to your leaders and inspire them to evaluate and work together to improve the church.
You can Lead a Church that Evaluates and Grows
You may think you don't have time for more thing. That's the beauty of this video master class. You will equip and inspire your leaders to take initiative to ask simple evaluation questions.

You may think that your congregation won't be willing. Just start with a few leaders who are willing. When others see progress, they will get on board.

You may think you'll get criticized. Maybe. It's an occupational hazard. But you know that you will also take criticism if you don't do anything.

You may think it's too hard to get your church to do this. It's a culture-shift for a church to measure, evaluate, and improve.

But it's not hard if you use this master class to get started.

Here's What You Get Inside the Church Evaluation Master Class:
A 43-minute video class from Dr. Hal Seed taught before a live audience

A Lesson Note handout for each person to follow along and take notes on the video to remember and apply the principles and practices.

A Discussion Guide so you can facilitate your staff and leaders buying in, applying, and taking action to evaluate and improve.

An Implementation Checklist to make it easy to see how to develop an Evaluation System in your church.

A Board retreat agenda so you can build into your Board and show them the value and results of evaluation.

An audio download of the teaching so you can listen on the go.
The Church Evaluation Master Class will show you how to evaluate as a team and make improvements that will bring church growth.
This master class is a digital product and will download immediately on purchase. In addition, you will receive the download link in a follow up email.