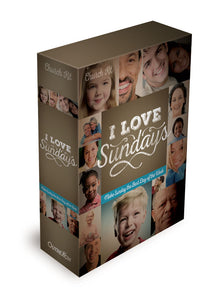 I Love Sundays Campaign Kit
Regular price $49.95 Sale
HELP YOUR CHURCH  MEMBERS DISCOVER THE POWER OF CONNECTING WITH GOD'S PEOPLE
It used to be that Sundays were set aside for church, rest and families.
But for most people, Sundays have become just another busy day of the week with no time left for church or enjoying the family. At the same time, more and more people are wondering why life isn't working so well for them.
Take your church through this five week experience and help them discover how Sundays can make the rest of their lives better.
This church campaign kit pairs with the I Love Sundays gift book, the I Love Sundays small group leader kit, and the I Love Sundays individual study guide.
The I Love Sundays Church Campaign  Kit includes:
Campaign Planning Guide

Resource DVD with sermon bumper videos, countdown clock & promotional video

5 customizable sermons 

Web and social media graphics

Small Group Study Kit with Leader's Guide & Study Guide

An I Love Sundays gift book
An I Love Sundays T-shirt
An I Love Sundays wristband

Sample promo tools
This Campaign Kit includes everything you need to plan the series, preach the sermons, and get people involved in the campaign.
This church campaign kit is a physical product and will ship to you within 48 hours.