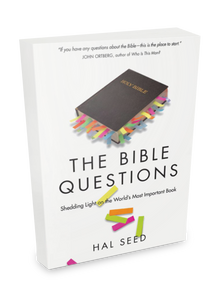 The Bible Questions
Regular price $10.95 Sale
Buy more and save!
1-9 Book(s)   $10.95 Each
10-Pack        $89.50     ($8.95 Each)
25-Pack        $199.00   ($7.95 Each)
GET TO KNOW THE BIBLE AND THE GOD WHO MAKES HIMSELF KNOWN IN IT
The Bible Questions takes you on a tour into and behind the Bible. It's a living, life-changing book that you can learn to understand.
This Bible study book pairs with the Bible Questions Church Campaign.
The Bible Questions will help you to find answers to questions like:
Where did it come from?

Who wrote it?

Why are people so inspired by it?

Or so fearful of it?

What does it have to do with my life?
"If you have any questions about the Bible – this is the place to start."
– John Ortberg
This book will help you learn about:
Primary Questions, like who wrote the Bible and how accurate is it.

Purpose Questions, like what's the Bible's purpose and can the Bible make me a better person.

Probing Questions, like why was God so violent in the Old Testament and is there only one way to heaven.

Practical Questions, like how do I study the Bible and where can I get help with the Bible.
This is a physical product and will ship within 48 hours via USPS priority.