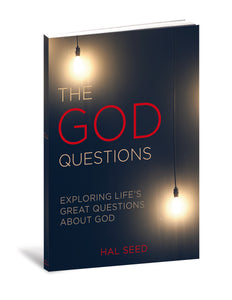 The God Questions Gift Edition
Buy more and save!
1-24 Books    $3.99 Each
25 Pack          $87.25        ($3.49 Each)
50 Pack          $149.50     ($2.99 Each)
100 Pack        $249.00     ($2.49 Each)
GIVE A LOW COST GIFT THAT SHOWS VISITORS TO YOUR CHURCH THAT THEY HAVE COME TO THE RIGHT PLACE
The God Questions Gift Edition is a quick read that answers the four most pressing questions people ask about God:
Is God Real?

Is the Bible True?

Do all Roads Lead to Heaven?

How Can a Good God Allow Suffering?
This Gift Book will help you to:
Give every visitor an inexpensive gift and evangelism tool.

Put a clear Gospel presentation in the hands of your visitors.

Impress your guests.
You will receive:
The book features color pages with illustrations, charts and clear-cut answers to their key questions.

The final chapter leads seekers through a gospel message and prayer and then gives them the next steps for growing in their relationship with God.
This is a physical product that will arrive in a week.