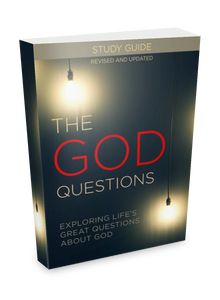 The God Questions Study Guide
 Buy more and save!
1-9 Book(s)    $9.95 Each
10-Pack         $89.50     ($8.95 Each)
25-Pack         $199.00   ($7.95 Each)
30-Pack         $238.50   ($7.95 Each)
GET ANSWERS TO THE EIGHT COMMON QUESTIONS PEOPLE ASK ABOUT GOD
You will know what the Bible says about the big issues, and you will be able to talk about it with others. 
You will find answers to questions like:
How do I know that God is real?

Is the Bible really the Word of God, or is it just an ancient book?

Why are Christians so exclusive?

Is there really only one way to heaven?
This book will help you to:
Learn what the Bible says about the common questions people ask.

Discover there are solid, Biblical answers for difficult questions.
"A good question is often as important as a good answer
and "The God Questions" guides you through plenty of both."
Judson Poling, editor of The Journey Bible
You will receive:
This book includes a small group discussion guide.

It also includes notes about using it with the God Questions church campaign.
This is a physical product and usually arrives in a week.